Facebook group hailed as local litter heroes
19 February 2018

Hundreds of community-minded Facebook users in Kidderminster have become local heroes by organising a series of litter picks around the town.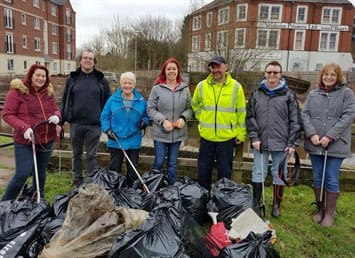 More than 300 members of the Facebook group/page "Keeping Kidderminster and Surrounding Places Clean" have been getting out and about their local streets and neighbourhoods picking up litter and disposing of it in litter bins around the district.
Since the beginning of January the group has organised five community litter pick events and made more than 200 posts online, including a series of before and after photos. This has resulted in approx 60 bags of litter being removed from local streets and areas of natural beauty.
Wyre Forest District Council contacted Facebook group administrator Michelle Medler to offer a range of support, including tabards, litter pickers and black bin bags as well as guidance and advice on other issues such as litter bins, needles and flytipping.
Michelle said: "The reason I started this Facebook page was to encourage people to look outside their own houses and pick up 3 items of litter a day. Now people I don't know are picking up carrier bags full of litter. I'm amazed at how many people care and want to make a difference which is great to know and the positive comments from the public make it all worthwhile."
Cabinet Member for Operational Services Councillor Rebecca Vale said: "It is truly remarkable to hear about the positive impact these volunteers have had and I'd like to thank every one of them. We spend a lot of time, effort and money cleaning our streets – this just goes to show what a huge difference we can make to the look and feel of the district by working together.
"The members of this Facebook group have shown commitment by giving their time and putting in a huge effort both individually and collectively to keeping the district safe, clean and looking good and we will continue to support them as well as welcome any similar initiatives from any other groups in the district."
If you would like help, advice and support on organising a litter pick contact Wyre Forest District Council's Place Coordinator Sarah Davis on 01562 732958 or email sarah.davis@wyreforestdc.gov.uk.
Photograph shows, (left to right) – Volunteers Wendy Garrett, Marcin Gorecki, Jan Gough, Keeping Kidderminster and Surrounding Places Clean administrator Michelle Medler, Wyre Forest District Council Street team officer Kevin Hall, Volunteers Karen Pullen and Linda Stone.
---