Localism fund fuels charity's drive for volunteers
21 February 2018

A local transport charity run by a group of volunteers has received vital support from Wyre Forest District Council to help with their ongoing recruitment drive.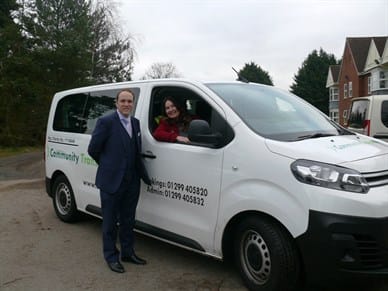 The £500 grant from Wyre Forest District Council's Localism fund has enabled Community Transport to produce promotional material about volunteer vacancies.
A portion of the funding will also go towards new high-visibility jackets for their drivers.
Community Transport is a Bewdley based charity which takes people with various disabilities of all ages from A to B. This community service helps the most vulnerable in Wyre Forest attend medical appointments and social events.
Beverley Coldrick from Community Transport said: "We are delighted to receive £500 from the Localism Fund.
"Over the last year our service demand has increased by 25% so the Localism funding really helps with our campaign to attract new volunteers. It has also allowed us to purchase new jackets for our drivers who work late into the night."
Wyre Forest District Council Leader Councillor Marcus Hart, who leads on Localism for the authority, said: "I'm really pleased our Localism initiative has been able to support Community Transport.
"The charity is a great asset to the community and I'm glad the Localism fund has gone someway to safeguard its future."
If you are interested in becoming a volunteer at Community Transport please call 01299 405832, email admin@ctwyre.org.uk or visit http://www.ctwyre.org.uk/.
Photograph shows – Wyre Forest District Council Leader Councillor Marcus Hart and Community Transport Chief Officer Beverley Coldrick
---