Town centre improvements have created multiple economic benefits for Kidderminster
22 February 2018

A study has revealed that the recent £2 million improvements to Kidderminster town centre public realm have delivered multiple economic benefits for shoppers and local residents as well as workers and developers.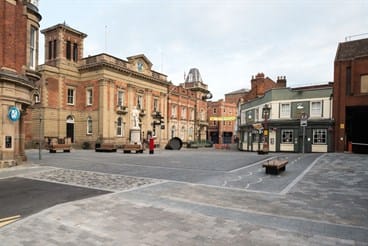 In the 12 months since completion, the transformation of the town centre has not only created a much improved shopping and visitor experience, it has created a total of 63 new jobs and will have enhanced the land value by up to £5.52 million over the next 5 years.
The findings are detailed in a report compiled for IBI Taylor Young and Wyre Forest District Council by independent KADA Research Consultants.
Councillor Ian Hardiman, Wyre Forest District Council's Cabinet Member for Planning and Economic Regeneration said: "We are very pleased with the findings of the report which demonstrate the positive wider economic benefits for the town and the district.
"I particularly welcome the report's findings that over a ten year period the works should have a benefit cost ratio of 1:7.6, meaning that every £1 we spent should generate £7.60 in economic benefits.  Our original vision of the project as part of the ReWyre regeneration plan was to transform the town centre's central shopping area.
"It is excellent news that not only have we been able to improve the town centre environment, it has had positive effects on the local economy. This phase of work is part of the wider ReWyre regeneration vision for the town, including Lion Fields and the opening up of Worcester Street to traffic and acts as a catalyst for further private and public investment."
Councillor Helen Dyke, Member Champion for Town Centres said: "We wanted to create an attractive town centre which provides an accessible and user friendly shopping and visitor experience.
"We believe this aspiration has been achieved through these improvements. The key elements of the proposals focused on a simple layout using high quality products and materials and maximising the potential of areas such as Exchange Place, the Bull Ring and the junction between Vicar Street and High Street."
The public realm improvement project was carried out between 2015 and 2017 at a cost of £2 million.  Wyre Forest District Council invested £500K of capital funding and Worcestershire County Council a further £1.5 million. The next phase includes development of the Lion Fields site (formerly the Forest Glades Leisure Centre area) to include a multi-cinema complex and a range of restaurants and bars.
The full 'Town Centre Public Realm Improvements – Economic Impact Assessment' report can be viewed here http://www.wyreforestdc.gov.uk/rewyreandkidderminsterregen.
---