Raise a flag for our Armed Forces
07 June 2018

Armed Forces Day will be marked in Wyre Forest with the annual flag flying ceremony.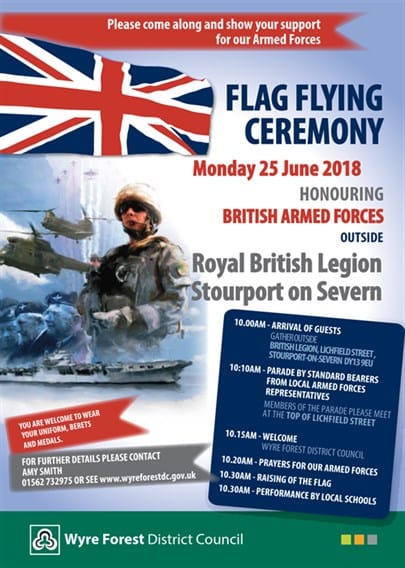 Veterans, serving members of the armed forces, cadets and residents are all invited on Monday 25 June to the ceremony outside the Royal British Legion offices in Lichfield Street, Stourport.
Guests are asked to arrive at 10am ready for a parade, led by standard bearers from armed forces associations in front of the building.
At 10.15am guests will be formally welcomed by Councillor Stephen Williams, Chairman of Wyre Forest District Council. This will be followed by the raising of the flag at 10.30am. The ceremony will end with prayers and a choir performance from St Bartholomew's Primary School.
Attendees are welcome, if appropriate, to wear their full military insignia, berets, blazers or uniform to mark the occasion.
Councillor Marcus Hart, Leader of Wyre Forest District Council, said: "The Flag Flying Ceremony is a great opportunity for everyone to show their support for our Armed Forces.
"This annual event is taking place all over the country and goes a small way to remember, recognise and celebrate our brave past, present and future armed forces personnel. I hope to see you there."
The council has two armed forces champions; they are Councillor Nicky Gale and Councillor Steven Walker.
Councillor Nicky Gale said:
"Councillor Walker and I are delighted to be armed forces champions. Our role is to make sure that the council achieves its commitments to the armed forces community which are set out in the Worcestershire Armed Forces Community Covenant. 
"We hope this ceremony will help to strengthen the ties between the Armed Forces Community and our community here in Wyre Forest."
Councillor Steven Walker BCAv said:
"As a veteran who served in the armed forces for 22 years, I am immensely proud to play a part in this ceremony. Every year Armed Forces Day is marked in one of the district's towns. This time we are doing it in Stourport, so please come along on Monday 25 June and show your support for our brave servicemen and women."
For more information on the event please visit www.wyreforestdc.gov.uk/flagflying.
---