New mobile parking payments service launches in Wyre Forest
12 March 2018

Motorists in Wyre Forest will soon be able to use their phones to pay for parking in council-owned car parks.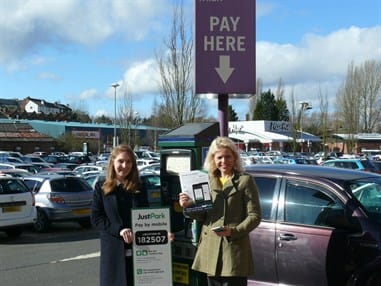 Wyre Forest District Council is working in partnership with national parking technology company JustPark to offer motorists the new service from Wednesday 21 March, 2018.
Visitors to council car parks across the district will be able to download the free JustPark app to pay on their smartphones, or pay by text or phone call at no extra cost - making parking quicker, easier and more convenient.
People using the app will get free reminders that their parking session is about to expire and will also be able to pay to extend their stay using their phone, rather than having to return to the meter and run the risk of getting a parking fine.
As an alternative to the app, drivers can pay via phone call or text if they prefer - and will be able to opt in for confirmation and reminders at a cost of 20p.
Cabinet Member for Operational Services Councillor Rebecca Vale said: "Now the majority of people have mobile phones, it makes sense for us as a council to respond to the needs of our car park users by allowing people to pay via phone as well as cash.
"This is a great service that saves time and ends the hassle of always having to carry loose change. All of the car parks in Wyre Forest will now become phone friendly."
Founder and CEO of JustPark Anthony Eskinazi said: "We're delighted to be working with Wyre Forest to make parking easier for their residents and visitors.
"To be launching the first mobile parking payments technology in the district is an exciting project, and we're looking forward to bringing the benefits of our service to drivers at all council car parks – saving them precious minutes every time they park."
(Picture shows from left to right – JustPark Account Manager Antonia Hobden and Cabinet Member for Operational Services Councillor Rebecca Vale)
---