Localism Grant helps church with new TV screen
30 May 2018

A campaign to bring a taste of 'Holy'-wood to Kidderminster has won funding from Wyre Forest District Council.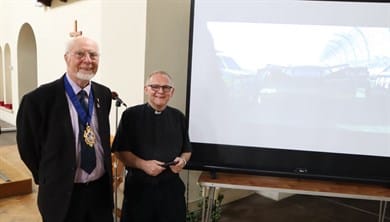 The Holy Innocents' Church is the proud new owners of a 95" film screen after a £1,000 grant from Wyre Forest District Council's Localism Fund.
Last month the church showcased their new equipment by holding a 'Film Friends' event with members of the public, councillors and the Mayor of Kidderminster in attendance.
Heather Prangley from Holy Innocents' Church said: "We are over the moon to receive £1,000 from the Localism fund.
"This new screen will enable us to reach out to all members of our community and further afield. We are planning to show suitable films to young people during the school holidays along with our fortnightly Film Friends event.
"We are also delighted to be working with the Alzheimer's Society. Our aim is to provide a safe environment for people living with dementia so they can come along and watch a film.
"If you would like to sit back and relax or even have a bite to eat at the community cafe you are most welcome. Our next film showing will be Monday 4 June. For more information or to discuss additional needs please contact father Tim Williams on 01562 631856".          
Wyre Forest District Council Leader Marcus Hart, who leads on Localism for the authority, said: "I'm over the moon that our Localism initiative has been able to support the Holy Innocents' Church. The funding will also benefit a large number of the wider community with the different events they have planned in the near future.
"This is exactly the kind of project our Localism fund was set up to support – working in partnership with communities to improve services and facilities for local residents."
For more information on localism and how you can apply visit - www.wyreforestdc.gov.uk/localismfund.
(Picture from left to right – Mayor of Kidderminster, Martin Stooke and Father Tim Williams)
---