Theatre group applauds Localism support
23 November 2018

A Stourport-based theatre group is making a real song and dance about receiving a £1,000 windfall from Wyre Forest District Council.

Wyre Forest District Council's Community Localism Fund grant will help pay for new sound and lighting equipment and help the Monday Night Group continue its fund raising efforts which benefit local groups and organisations.

Each year the group, which is a registered charity, donates the proceeds of its annual pantomime to local groups supporting the young, elderly and disabled. Last year more than 90 community groups within Wyre Forest shared £27,250 proceeds from the Monday Night Group's pantomime in January.

This year's panto – Little Red Riding Hood – will take to the stage at Stourport Civic Centre in January.

Two of the leading performers took a few minutes out of rehearsals this week to meet Wyre Forest District Council Leader Councillor Marcus Hart to say thank you for the grant.

Monday Night Group Chairman Sam Maher – who is playing Grandma Hood, the panto dame in the new production – joined Maria Crabbe, in her first principal boy role as James the woodcutter.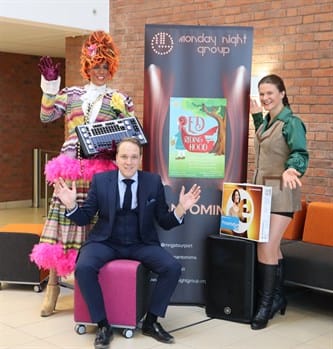 Sam said: "The Monday Night Group has been producing a Pantomime each year in Stourport for over 50 years and since becoming a registered charity in 1981 has donated over £500,000.
"Our lighting and sound equipment is outdated and we have to rely on hiring items which increases costs and impacts on the overall amount of money we can donate to local groups.
"The grant will help us buy a new lighting desk and accessories and ensure we can maintain a high technical quality and professional show for the 4,000 plus audience members we get each year."
Council Leader Councillor Marcus Hart, who leads on Localism in Wyre Forest, said: "I'm very pleased to support the Monday Night Group. Not only does the group produce a fantastic pantomime which entertains thousands of local people each year, they also help many other local organisations with much-needed funding year in, year out.
"I applaud their efforts and have no hesitation in supporting their application from our Community Localism Fund. The fund is there to help support charitable organisations who are making a real difference to the lives of local people."
Tickets for Little Red Riding Hood, running from 25 January to 2 February, are available to buy below NOW. Tickets ranging from only £8 to £12 are on sale from www.mondaynightgroup.org.
Picture: Sam Maher Stourport Policeman in the back, Leader of WFDC Marcus Hart (seated), and Maria Crabbe WFDC Web Development Officer (right).
---