First Wyre Forest Volunteer Fair hailed a huge success!
27 September 2018

Charities, community groups and local organisations have signed up scores of new volunteers following a successful new initiative organised by Wyre Forest District Council.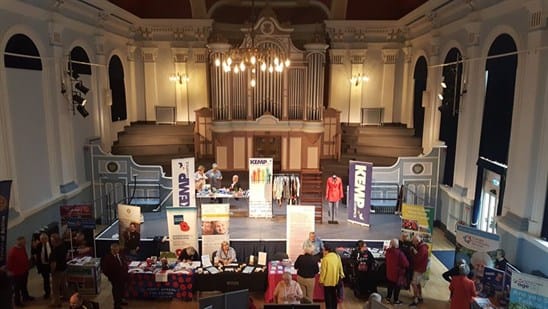 More than 260 people attended the council's first Volunteer Fair at Kidderminster Town Hall last week. The event was opened by members of the Wheelie Different Theatre Group who performed Take That's song "Shine".
Over 40 charities and community groups and organisations took part in the day to promote a range of opportunities and sign up new volunteers.
The Emily Jordan Foundation and Riding for the Disabled alone signed up 16 new volunteers and there was positive feedback from both stall holders and visitors.
Katherine Dunn from Mentor Link said: "It was quite wonderful to see so many passionate people all in one room - each driven by their vision to help improve the lives of others."
Graham Knight from the Boys' Brigade said: "We found the event great for networking with other community groups. The fair was invaluable to show people what volunteer opportunities we provide."
Paul Raper of Simply Limitless said: "Thank you for organising the fair today. There was such a buzz as I walked around this morning."
Councillor Ian Hardiman, Deputy Leader and Cabinet Member for Housing, Health and Wellbeing attended the event. He said: "Volunteers are a crucial part to many charities and community groups, and I'm pleased the fair has provided the perfect opportunity for these groups to continue to thrive within our district.
"There is also evidence to suggest that giving help boosts personal wellbeing. Such an event helps build community spirit."
The event was organised as part of the council's 5 Ways to Wellbeing campaign under the theme of 'Give'.
---