Kidderminster Town Hall hosts the Wyre Forest Volunteer Fair
06 September 2018

Volunteers from more than 40 organisations will be hoping to recruit like-minded community spirited supporters at a showcase event at Kidderminster Town Hall this month.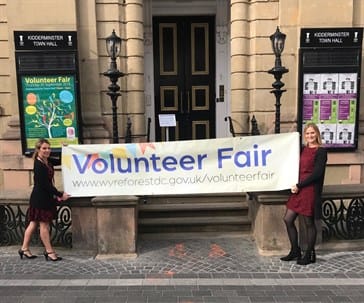 Representatives from charities, support groups and other organisations will be available to talk to people about a host of volunteering opportunities and they are hoping as many people as possible – even those who may only have a couple of hours spare a week – to come along to find out more.
The Volunteer Fair organised by Wyre Forest District Council, will take place on Thursday 20 September from 10am-2pm. More than 40 local groups who rely on the goodwill of volunteers will be promoting a number of exciting roles from providing admin support, running sport classes, completing DIY projects and much more.
Attendees will have a chance to find out how to dress a shop window or steam clothing in a workshop organised by local charity, Kemp Hospice. Free food and refreshments are also being supplied by FareShare.
The upcoming volunteer showcase ties into the ongoing 5 Ways to Wellbeing campaign organised by Wyre Forest District Council with the theme of August and September being 'Give'. Research into improving personal happiness has shown that committing an act of kindness such as volunteering can boost personal wellbeing.
Councillor Ian Hardiman, Deputy Leader and Cabinet Member for Housing, Health and Wellbeing said: "I am delighted that so many organisations are coming along to the Wyre Forest Volunteer Fair. The event coincides with our 5 Ways to Wellbeing campaign. Throughout August and September we are focussing on the theme 'Give'. We hope this event will raise awareness about the wide range of causes being tackled by local unsung heroes willing to give up their time each and every week to benefit our community."
(Photo shows from left to right: Elaine Halford-Bishop, Wyre Forest District Council's Health & Sustainability Officer and Rachel Cockayne, Wyre Forest District Council's Public Health Practitioner)
---