Localism boost for new community workshop
04 September 2018

A new community workshop in Bewdley that gives local people the chance to try their hand at traditional arts and crafts, has been awarded a grant by Wyre Forest District Council.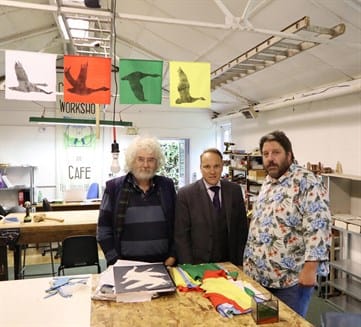 The council is contributing £1,000 towards the new initiative from its Localism Fund, which supports local organisations offering community services and facilities.
The Community Workshop and Café opened the old scout hut in Park Alley, off High Street, Bewdley, earlier this month with the aim to help people of all ages develop skills, gain confidence and self-worth.
The workshops are supported by an in-house cafe that as well as supplying good quality drinks and snacks will provide a safe place of inclusion and support where visitors can come and be a part of the community.
Organiser Jason Pond said: "We very much appreciate the funding from Wyre Forest District Council. It has helped get the project off the ground quicker than we would have been able to otherwise.
"We have all ready received interest from the Men's Shed Association, the Kidderminster occupational health team, local homes for people with dementia and  the  stroke rehabilitation unit as well as many individuals who have shown a real interest in participating.
"Our team has considerable experience of working in educational and therapeutic settings and have first hand experience of how working creatively can have a real positive affect on people's lives. Our workshops bring the community together through creative and imaginative action which creates a sense of self worth and of a community that is supportive and inclusive."
Wyre Forest District Council Leader Marcus Hart leads on Localism in the district. He said: "This is exactly the sort of community service Localism was set up to support. I have no doubt in just the short few weeks that the workshops and cafe have been open it is already having a positive impact on the quality of local people's lives.
"We are more than happy to support local groups who are offering services to meet the specific needs of local people."
You can find more information about WFDC's Localism Fund here.
(Photo shows from left to right: Trevor Bowen, Community Workshop and Cafe Organiser, Wyre Forest District Council Leader Marcus Hart and Jason Pond, Community Workshop and Cafe Organiser)
---