Educators learn how to spot signs of coercive control
10 December 2019

Local schools joined forces last week to learn how to spot the signs students may be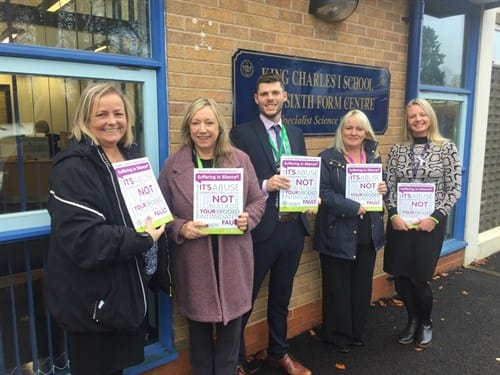 being coercively controlled in relationships as part of a 16 days of action campaign highlighting male violence against women and girls.
Expert trainer Sarah Wigley delivered the half-day session, funded by Safer Wyre Forest, to staff from seven local schools and a college: King Charles 1 School, Baxter College, Franche Primary, Foley Park Academy, St Mary's C of E Primary, Haybridge High School, Hagley Primary and Kidderminster College.
Lindsey Bates, Achievement Leader and Deputy Safeguarding Lead at King Charles I High School, which hosted the training, said: "Domestic Abuse can happen to anyone. Training professionals to have awareness, education and empathy can help in recognising signs of coercive control."
Kathryn Underhill, Community Safety & Partnerships Officer, Safer Wyre Forest Chair said: "We were pleased to support this important training as part of our wider 16 Days of Action campaign. In the UK, thousands of children and young people are living in homes with domestic abuse, which can have a lasting and devastating impact on them.  It's so important that our educators are able to recognise the signs of abuse, including coercive control and how to support young people that are suffering."
Coercive control, which became a crime in its own right in 2015, covers a range of intentional behaviours designed to isolate and undermine a victim over a period of time. Physical violence may not be needed in order for it to be effective - the psychological work itself can have a severe impact, leaving victims questioning their own judgement and instincts and alienated from friends and family.
For more information on Coercive Control click here.
---