Business, Education and Council Leaders pledge to boost apprenticeships in Wyre Forest
04 March 2019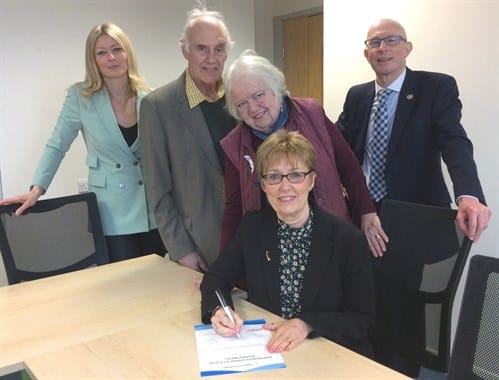 To celebrate National Apprenticeships Week (4 to 8 March 2019) Wyre Forest apprenticeships are set for a further boost thanks to an initiative led by the Chairman of ReWyre, local business leader, Neil Morris with Kidderminster College and Wyre Forest District Council.
The partnership scheme – the 'ReWyre Apprenticeship Pledge' encourages employers in the district to increase the uptake of apprenticeships, raise skill levels and tackle unemployment.
The 'ReWyre Apprenticeship Pledge' will see employers pledging that at least 2.5% of their workforce will be invested into Apprenticeship opportunities. All businesses regardless of size, industry or location are welcome to sign the pledge.
Neil Morris, Chairman of ReWyre said
'I'm delighted to launch the ReWyre Apprenticeship Pledge and I encourage local businesses, of whatever size, to get involved. ReWyre takes an active role in the development of young people in the region, they are our future and we want them to succeed and prosper in Wyre Forest. As a director of OGL Computer, a major employer in the area, I have seen first-hand the benefits that apprentices can bring to a business.'
"This campaign will work in tandem with existing apprenticeship initiatives available locally such as the Wyre Forest District Council apprenticeship scheme, Worcestershire Training Providers Association, Herefordshire and Worcestershire Chamber of Commerce.
Beth Newton, Employer Engagement Manager said
"Our aim is that the 'ReWyre Apprenticeship Pledge' will help drive apprenticeships in the local community with the full buy-in from employers. This will not only raise employment and aspirations in the Wyre Forest, it will also improve business performance in the future."
Cllr Chris Rogers, Wyre Forest District Council's Cabinet Member for Economic Regeneration and Planning said
"The Council is completely supportive of the apprenticeship pledge. ReWyre is the Council's flagship regeneration initiative and we welcome this approach to creating a robust, forward thinking area for people to live and work."
Marina Banner Executive Director of Vestia Community Trust and Director of Corporate Services at The Community Housing Group said
"We are fully supportive of this scheme and are proud to sign this pledge to support apprenticeships in the area.  We currently offer apprenticeships in Construction, Grounds Maintenance, Finance, IT, Administration and Human Resources. This year, alongside our normal programme we are investing in higher level apprenticeships in Management bringing our total to 36 across the Group. This investment is growing a pool of talent within the business to help us meet the challenges for a modern business in a competitive environment.  If you haven't signed up already we would  definitely encourage you to do so''.

Businesses wanting to support the pledge should contact Beth Newton, employment and Engagement Manager at Kidderminster College bnewton@kidderminster.ac.uk
(Image shows from left to right: Beth Newton Employment Engagement Manager at Kidderminster College, Cllr Chris Rogers Wyre Forest District Council's Cabinet Member for Economic Regeneration and Planning, Cllr Fran Oborski Wyre Forest District Council's Champion for Skills, (seated) Marina Banner Executive Director of Vestia Community Trust, and Neil Morris, Director at OGL Computer and Chairman of the ReWyre Board)
---