Go green at the Bewdley Greener Living Fair
22 March 2019

The Greener Living Fair is back to deliver a fun, educational and family-friendly day out to celebrate sustainable living.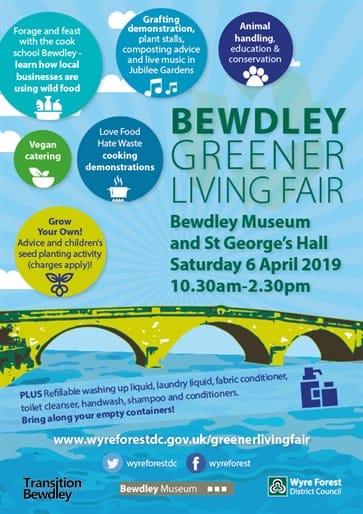 This free event, organised by Wyre Forest District Council, will highlight the various ways everyone can reduce, reuse, recycle and repair.
The fair springs to life on Saturday 6 April at Bewdley Museum and St George's Hall, from 10.30am until 2.30pm.
A variety of organisations will be offering advice on all things 'green'. Visitors can watch a live cookery demonstration from Love Food Hate Waste to show how easy it is to be less wasteful in the kitchen.
There will be activities for children too, including recycled arts and crafts, animal handling and seed planting.
KEMP hospice is holding a £1 clothing rail and there will be the chance to buy eco-friendly reusable makeup wipes, made from all natural products.
Visitors can immerse themselves in local conservation talks with the West Midlands Safari Park, and the local Bewdley Brewery will also be open with staff offering brewery tours.
Jennifer Moreton, Wyre Forest District Council's Principal Health and Sustainability Officer said, "It's great to see so many different organisations demonstrating their passion for eco-friendly living.
"Becoming sustainable has never been more relevant, so please come along to our fair to see the many ways in which we can all go 'greener'!"
For more information about the Greener Living Fair visit: www.wyreforestdc.gov.uk/greenerlivingfair.  
---